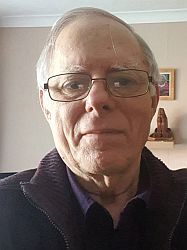 My name is Derek and I would like to welcome you to Internet Profit Success! I hope you find your visit rewarding and educational.
MY BACKGROUND
I was born towards the end of WWII, and according to my mother heard my first bombs aged 5 days. I hated school and all it stood for, so I joined the army at 15 as an apprentice boy soldier to learn a trade.
After finishing 12 years of full service (boys service is not reckonable) I left the army at 30, with the trades of auto-electrician and vehicle mechanic. I worked in a garage for a couple of months before deciding it was not the type of job I wanted to do, (the work I was doing in the army was repairing vehicles and not just servicing them), so I decided to branch out and become a service engineer.
As a service engineer, my job was to visit public houses and social clubs repairing and replacing their fruit machines, jukeboxes, pool tables, and other amusement equipment. As time went on, the equipment I was working on evolved from electrical to electronic and so more training was involved to keep abreast of the changing times.
I retrained as a driving instructor in the mid-90s and then in 2001 went on to be a driving examiner until I retired in 2013. Yes, I was well beyond state retirement age but as I enjoyed what I was doing I stayed on for an extra 4.5 years.
I am enjoying retirement but sometimes miss the bustle of the workplace, so I try to keep myself busy learning new things on the internet.
I enjoy cooking and have in recent times helped out in the kitchen of my local ex-service club.
WHY AM I HERE?
After spending years trying to make an income, (unsuccessfully) using the internet as my shopfront I thought there must be a better and more efficient way. Now I know from experience that there is someone out there who will say a particular system will work and another person will say it doesn't. My strategy has always been it is working for others so if I can't make it work, I must be doing something wrong.
I hope as you go through my website you will realize why some opportunities appear to work for some people and not for others. There are many explanations offered for the success or failure of these opportunities, but I hope I can inform and help you on your way to choosing a better way of conducting your online business!
MY GOALS!
My vision is to help as many people as possible into a more profitable way of life. Anybody can join the internet and any of the programs there are available, but very few know the most effective ways to go about earning a living on the internet. I hope you find my way of explaining things clear and concise.
All the best,
Derek Barrington
InternetProfitSuccess.com